Printer Manager allows administrators to manage the novaPDF printer(s). This way if you use it as a print server you will be able to manage what printers show up under what name for client computers connecting through the print server, manage the profile for these printers and license/unlicense client computers.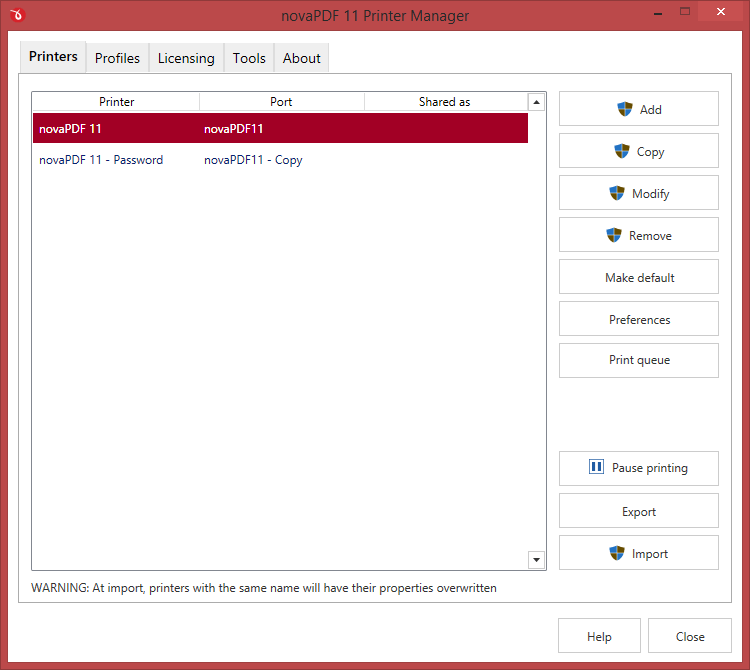 Printers
This is a list of printers that are installed on the current computer and use the novaPDF driver. To create a new printer based on the novaPDF driver click on
Add
and you'll be prompted to enter
General
details, set the
Default page size
, change the
Other defaults
and set
Permissions
for the new printer. Similarly, you can remove a printer by selecting it and clicking on
Remove
.
Other options:
Copy. Clones the selected printer.
Modify. Change the settings for an existing printer.
Make default. Makes the selected printer the default system printer.
Preferences. Click to open Printing Preferences for the selected printer.
Print Queue. View the current printing queue with documents sent for conversion that are being processed.
Pause printing
Use this option to pause printing. If printing is paused no print job will run for any of the printers defined in this list. You will have to resume printing if you want to continue creating PDFs.
Export/Import
Use this option to export the selected printers with their settings. You can also import those printers on a different computer (or after reinstalling the system).