The Tools section gives you quick access to print one/multiple documents, manage the printers, monitor printing progress, check for updates, change language and password protect the interface.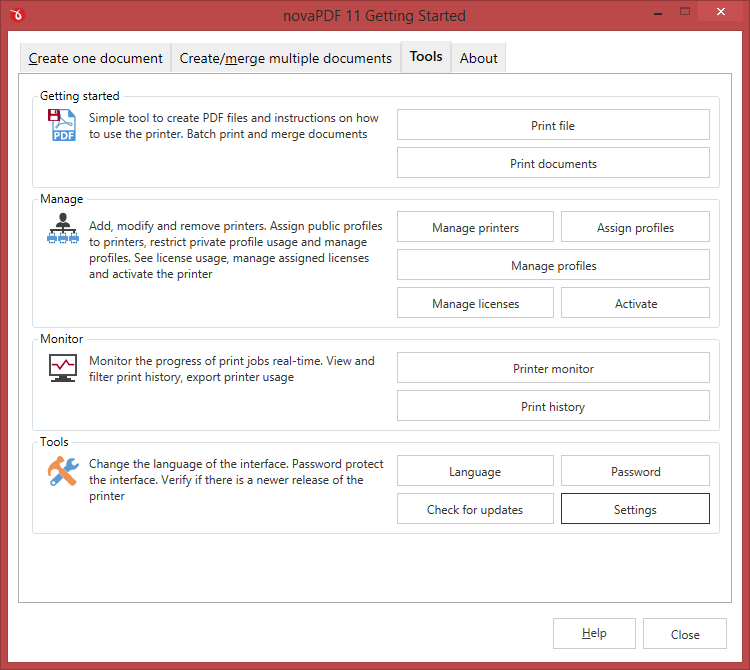 Getting started
Shows shortcuts to go to the printing documents tab (you can also click on the tabs to visit those sections).
Manage
Quickly manage printers, profiles and licenses, assign profiles to printers and activate the printer. Options available here:
Manage printers. Clicking this opens the Printer Manager where you can add, copy, modify and remove printers.
Manage profiles. Opens the Profile Manager where you can create new printing profiles or modify existing ones.
Manage licenses. Opens the Licensing section of the Printer Manager and you can license/unlicense computers.
Assign profiles. Use it to assign a printing profile to the selected printer. Opens the Profiles tab of the Printer Manager.
Activate. Opens the Activation window of novaPDF where you can activate/deactivate or change the product key.
Monitor
Opens the Printer Monitor that allows you to enable logging all printing actions. You can also monitor printing jobs in real-time to check their status, view, filter and export the printer history.
Tools
From this section you can set the user interface Language and configure the frequency of Updates.
You can set a Password to protect the user interface. You can also click on Settings to set a custom client path for all printer server clients (this location is where multiple necessary files are stored such as licensing information).