You can add as many printers as you'd like using the existing novaPDF printer driver. Each new printer you add will show up in your list of Printers. This section lets you name your new printer, specify a port and decide if you want this shared or not.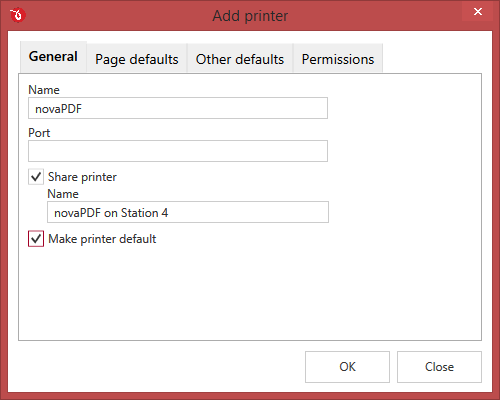 Name
The name you add here is the name that will show up in the list of Printers.
Port
You can enter a custom port to be used when printing. By default the port name is novaPDF11, but you can define in Printer Properties custom ports to be used here.
Share printer
You can share the newly defined printer and add it on other computers as a shared network printer. Add a name for it to be used as the shared printer (only the name shown in your network will be modified by this).
Make printer default
Use this option to set the printer as the default system printer. This means every time you print a document, novaPDF will be selected by default.