Displays information about the Columns you can display in the list of printers shown from the
Real-time
view.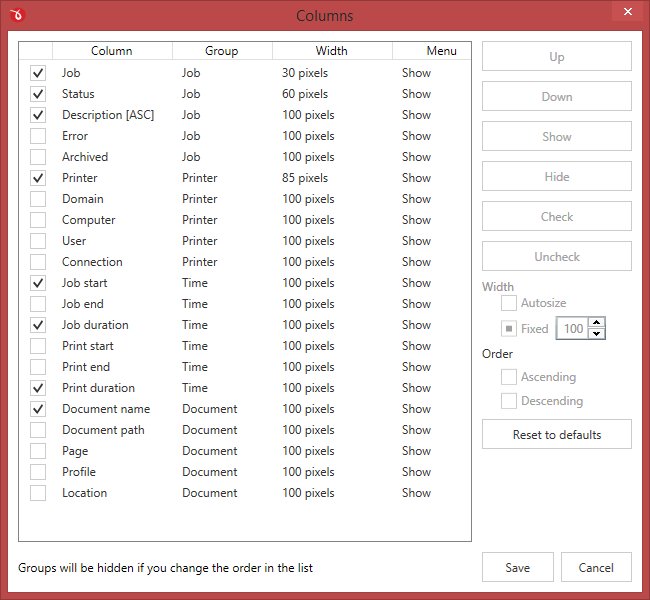 Column
A list of columns that will be displayed for the print job listing view (i.e. Job status, description, duration,...) in the Real-time view. The Job and Status columns are always shown, while all others are optional. Simply uncheck one of the Columns to have it hidden from the main job listing view.
Group
In the main print job listing view, the Columns are grouped in 4 different groups for display purposes. This shows which column will be shown in which group and does not affect anything from the main print job listing page, it's only for display purposes.
Width
By default each column will have a width of 100px. You can choose a custom width size for each column, or select them all and choose Autosize to have all columns' width re-calculated to fit onto the display from the Width section on the right side.
Menu
Choose to show which Columns to be shown in the main Columns Menu drop-down from the print job listing view. If you select Hide for a particular column, it will he hidden from the Columns Menu view (however it might still be visible in the print job listing view if its display checkbox is selected).
Each column can be sorted ascending or descending by selecting that line you want modified (i.e. Job) and selecting Ascending /Descending in the Order section on the right.