The History section allows you to see all recorded print job logs for the novaPDF printer. Unlike the Real-time view, this will show all recorded print job logs that were not deleted.
Monitoring history
This lets you select a specific monitoring session and filter print job logs by it. You will see all the monitoring jobs with Start/End dates. You can read more about it here:
Monitoring history
.
Printers
This will display a list of all the printers using the novaPDF driver and you can use it to filter out the printing activity based on a specific printer. You can read more in the
Printers
section.
Filtering
The Status and Filters sections allow you to filter the monitoring activity based on various criteria:
Status. There are multiple printing job statuses that you can filter by, from In Progress statuses (i.e. Started, Waiting, Printing) to Finished statuses (i.e. Success, Canceled, Error). The printing job status is updated in realtime.
Filters. This lets you apply the same filters that you've applied on the History section or reset the current filtering.
Columns
Choose which columns to be displayed for the print job listing view (i.e. Job status, description, duration,...). The Job and Status columns are always shown, while all others are optional.
Print job log
This will show in realtime the list of print jobs and their statuses. You can double-click on any of the print job to see advanced details for it.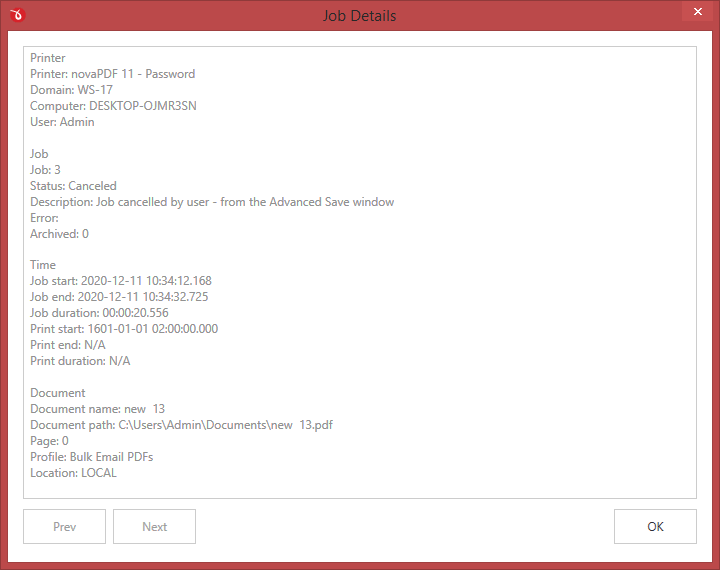 Actions
You can perform additional actions to the print job log listing:
Export. Saves the print job monitoring list as a.csv file.
Delete. You can delete all recorded print jobs, only the selected ones or by filter.
Archive. The print job log can be archived and accessed later if "Show archived" is checked.