You can easily set a password to protect the user interface of novaPDF. This way, everytime the app will be opened, a password will be required to modify its settings.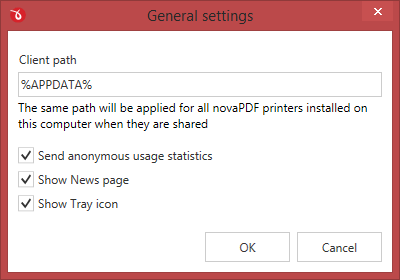 Send anonymous usage statistics
We rely on user feedback for new features and updates included in the application. If this option is checked, anonymous usage data will be sent to our server.
Show News page
Occasionally we will display a News page that shows what's changed in a new version or a special promotion. You can uncheck this option not to display the News page anymore.
Show Tray icon
Uncheck this to hide the tray icon of the application.
Client path
You can choose here the path that the printer will use. The same path will be applied to all printers installed on this computer when they are shared.