The Select Profile window is displayed if the Show Select Profiles dialog option is checked on the Printing Preferences page.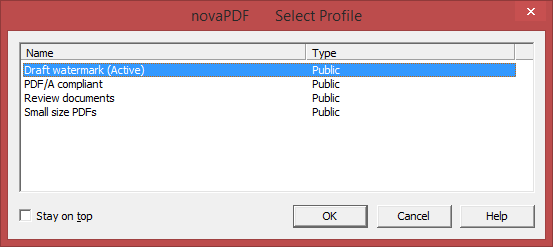 Profiles list
All the existing defined profiles are shown in the list-view. You have to select an existing profile you want to use for the current print job and click OK to continue with the printing process. Besides the Name of the profile, you can also see the Type of the selected profile, public or private.
Even if you have a profile set as active in the Printing Preferences, what you select in this Select Profile dialog is the profile that will be used for the current printing job. This window is shown even if you have the Use predefined settings option selected in the Manage Profile -> General -> File saving options section, so if you want to disable it you can go to Printing Preferences and uncheck Show Select Profiles dialog.
Stay on top
This is checked by default, and it makes the Select Profile window topmost (shown in front of other windows), this way being easily visible when there are many windows opened.