This article shows how you can use novaPDF to convert an ODF Formula file to a PDF document from either OpenOffice Math or LibreOffice Math (a fork of OpenOffice created by The Document Foundation).
OpenOffice is an open source office suite containing applications for creating word documents, presentations, spreadsheets, drawings, databases and containing a large template support to help the users as best as possible in achieving their project goals. A huge advantage of the OpenOffice application Suite is the cross platform deployment capability and support, making it ideal for users having the same projects and working on operating systems different from Windows such as MacOS, Linux, Unix distros etc.
OpenOffice Math saves files in a ODF formula file format that represents the native formula document extension and it is used for files containing mathematical expressions, functions and formulas. The file can be opened and managed by both OpenOffice Math or LibreOffice Math (basically same things as OpenOffice Math but it is developed by a different organization).
Despite the cross platform advantage you still need either OpenOffice or LibreOffice installed on the PC to manage the file type so having it in PDF format is very useful when porting it on a mobile device, when sharing the file with other people or when managing your projects with your other colleagues. Having novaPDF installed for the PDF conversion makes it even easier as all you have to do is select the Print button on the application interface and you are done. Additional options like bookmarking, watermarking, signatures, file security features, merging, mail sending are also available so you do not have to use additional programs for them.
How to convert ODF formulas to PDF
The ODF to PDF conversion is very easy to make and all you have to do is follow up on these steps:
Start your OpenOffice Math (or the LibreOffice alternative)
Browse for the file you want to convert to PDF by clicking on File->Open or clicking Ctrl+O
Once you have opened the file, select File->Print or click on Ctrl+P to open the Print window
From the General tab, select novaPDF in the Printer list
Click the Print button and choose a custom file name and a path if needed
Click OK and the ODF will be converted to a PDF containing your settings and properties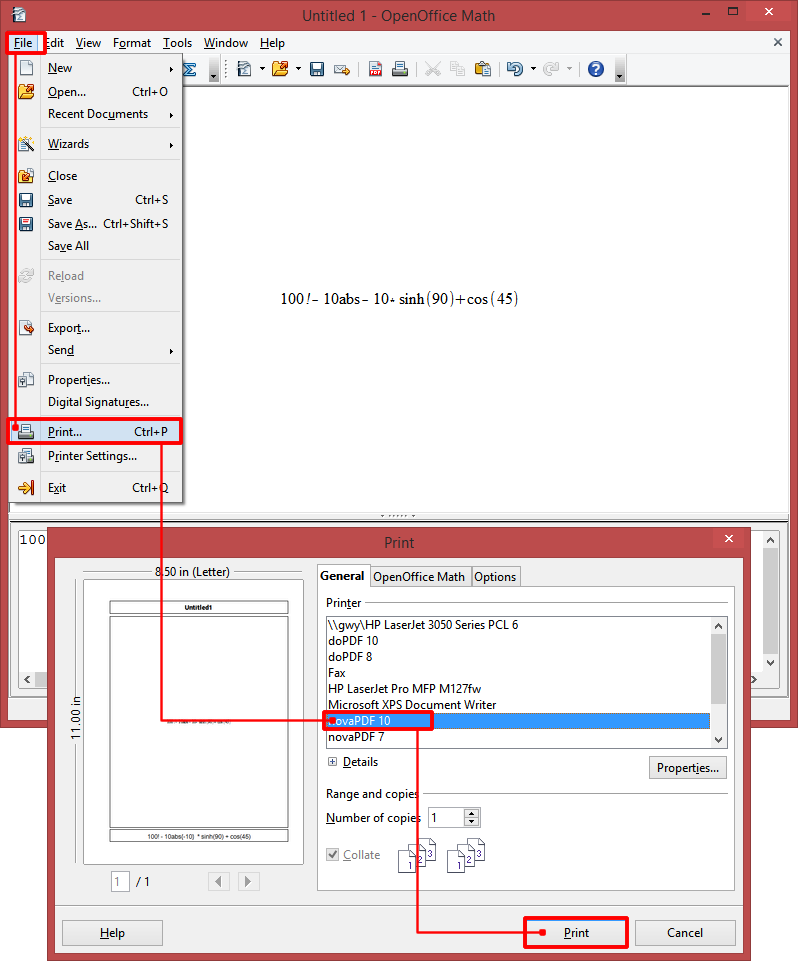 As a conclusion, ODF is specifically created for calculations and mathematics in the Math application and PDF compensates it by being a standard for portability and file compression, therefore being useful for further handling the file after being created in the OpenOffice Suite.