The Save rules section is embedded in the Other tab of the Profile Manager and allows you to define and use advanced filename/path saving rules.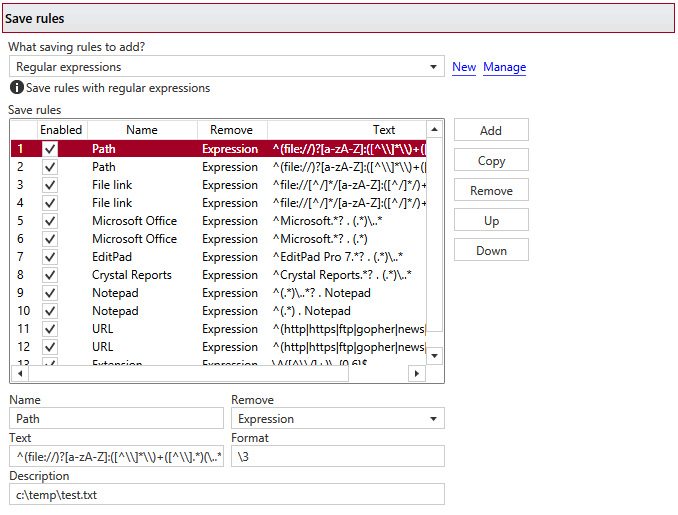 SAVE RULES
This group allows you to choose a predefined preset for save rules or use a custom one. By default there are several predefined save rules presets defined, but you can add new or manage those by clicking on New / Manage. You can read more about predefined save rules presets in the
Manage Presets->Save Rules
help section. A predefined user tags preset can be used by multiple profiles, while Custom settings only affect the current profile.
Save rules
Save rules can be used to modify the filename of generated PDF files in certain situations. For example, if you try to print to PDF an unsaved Notepad document the default filename will be "Untitled - Notepad.pdf". One of the default save rules included automatically removes the second part so the filename will be "Untitled.pdf". Custom save rules can be defined only for removing parts of a filename/path, you cannot use those to add/replace. You can Add a rule by providing a Name/Description and
Add rules
You can add a new save rule by clicking on Add or Copy an existing one. Save rules are interpreted in the order they are defined, so you can use the Up/Down options to re-order the existing rules. When adding a new save rule you will have to provide:
Name - this is the name of the rule, it doesn't affect the name of the document
Remove - save rules only remove parts of the filename, based on what you select:
Front - this will remove the matching Text only if it's at the front of the filename
End - this will remove the matching Text only if it's at the end of the filename
All - this will remove the matching text completely
Expression - the information used in the Text field will be interpreted as a regular expression
Text - this is where you have to enter the text or regular expression you want to be used for the filename
Format - only regular expression formats will be accepted here. For example \1 is interpreted as the contents of group 1, \2 is interpreted as the contents of group 2 and so on
Description : add more info about the rule you are adding
Note: Some of the features mentioned on this page might not be available in your edition. The Professional edition includes all the features, while Standard and Lite have limited functionality. For a comparison between editions, please check
feature matrix
topic.