The Updates window allows you to set how often to check for updates and to disable it.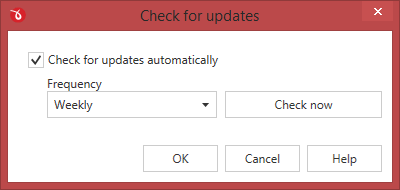 Check for updates
Automatic check for updates
This option is checked by default and will connect to the Internet to see if there are new updates for the application with the defined frequency. If you uncheck this option you won't be notified of new updates until you check manually by clicking on the Start check for updates button.
Frequency
You can choose to check for updates Daily (not recommended), Weekly (default value) or Monthly. When an update is found it will display the novaPDF Updates window with details about the update.
novaPDF Updates
Version history
If updates are detected you'll see a list of fixes, updates and new features in the version history section, grouped by version and build number. You can start the download of the new version by accessing the Click to download link.
News
Occasionally we will post news items that will show in the update window. When this window is opened you can re-check for updates by clicking on the Refresh button.