We strive to keep our articles as accurate as possible. If you notice any inconsistencies or outdated info please let us know.
The following tutorial explains how to convert a .chm (Microsoft Compiled HTML Help) file to a PDF document by using the novaPDF printer driver. To be able to make the conversion, download and install novaPDF from the Download page available on the website.
On this page:
The .chm file format stands for Microsoft Compiled HTML Help and it is a proprietary type for the online help files. It was produced and released by Microsoft and it is similar with the LIT format as LIT is basically a modified version of chm and adapted for e-books. All the documentation is saved in a compressed HTML format and includes images, text and links. Some chm files can also be viewed in a web browser with or without additional add-ons.
Chm files are specially optimized for reading and are heavily indexed. However the format also contains a couple of flaws, a big one representing the ability to contain and execute custom code which in regards to security can be considered a threat. This is why Microsoft wants to replace the format starting with the Vista systems with Microsoft Assistance Markup Language. Also another downfall is the limited support for Unicode.
This is why choosing a different format for day to day handling or archiving such as the PDF one can be very useful. With the help of a PDF converter such as novaPDF for example, a PDF can contain enhanced security, high quality elements, full Unicode support with font embedding, signatures, on the fly mail sending and more.
How to convert a chm to a PDF from Help Explorer Viewer
The Help Explorer Viewer is a small, freeware application used for chm file viewing. To convert the chm to a PDF:
Click File>Open and browse for the chm file you wish to convert to a PDF
After opening the file, search for the page you need converted and click on the Print button
In the Printer window select novaPDF as the printer name
Click OK then OK again in the Save PDF File As window and the page will be converted.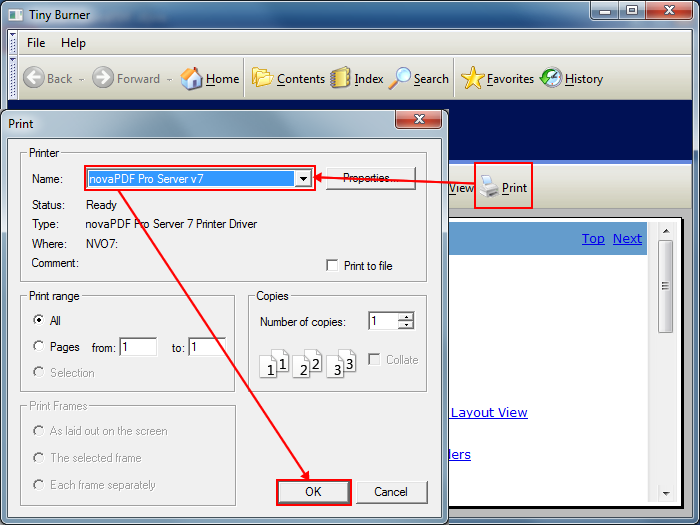 How to convert a chm to a PDF from xCHM
To be able to convert the chm to a PDF from xCHM follow these steps:
Click File Open or pres the Ctrl+O combination to find the file and open it
Click on File->Print Page (or Ctrl+P) or click directly on the Print button in the interface and in the Print window select novaPDF
Click on Print and after selecting after save actions if needed click OK to convert the file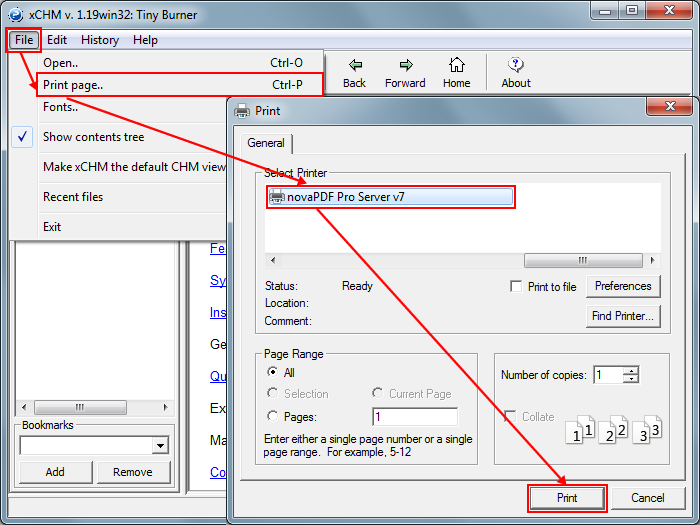 How to convert a chm to a PDF from Microsoft HTML Help control
The Microsoft HTML Help application is the native .chm handler and this is what you have to do to convert chm to PDF from it:
Double-click on the chm file to open it or right click on it, select Open with and choose MS HTML Executable
Click on Options -> Print or press the Print button directly from the interface
Choose between printing the selected page/topic or print the topic with all the subtopics included and click OK
In the Print window select novaPDF for the printer and click OK
In the Save PDF File As window click OK again and the conversion will start