This help topic applies only to novaPDF. If you don't have it yet, you must download it first.
Download now
Buy licenses
We strive to keep our help as accurate as possible. If you notice any inconsistencies or outdated info please let us know.
The N-up window allows you to define how many pages per sheet you want printed. When converting a multiple-page document, you can print more than one page on a single sheet in the resulting PDF file. Print one, two, four, six, eight, nine, or sixteen pages per sheet.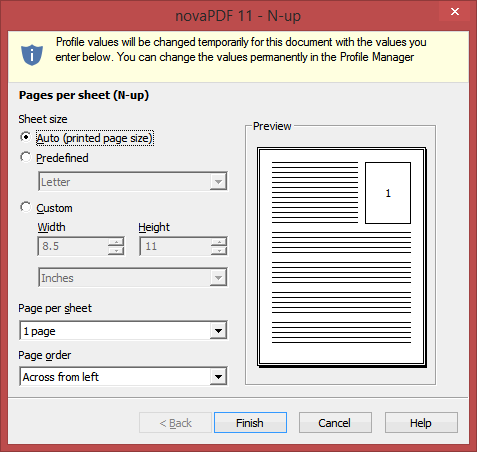 Sheet Size
You can overwrite the default page size in here to either using one of the available Predefined sheet sizes or adding your own custom page size.
Pages per SHeet
Define how many pages per sheet you want in the resulting PDF file. You can choose 2, 4, 6, 8, 9 or 16 pages per sheet.
Page Order
Here you can define the order in which the pages will be grouped on the sheet. By default all pages will show from left to right then down (Across from left), but you can choose 3 other types of page orders: Across from right, Down from left and Down from right. You can see in the Preview area how the resulting sheet will look like.