novaPDF Printer 1.x - 7.x
Adobe InDesign
We strive to keep our articles as accurate as possible. If you notice any inconsistencies or outdated info please let us know.
The Indd presentation documents can be easily converted to PDF documents directly from the Adobe InDesign application interface by using a PDF converter. NovaPDF assists the users in making such a conversion and you can download it from the Download page if you do not have it yet installed on the computer.
On this page:
INDD is the native Adobe InDesign document format for presentation pages created exclusively from Adobe applications. The only external program capable of opening the format is QuarkXPress using the ID2Q plugin. The document is generally used for books, posters, magazines, fliers, brochures and other publicity material and it includes page formatting and content, associated files as well as styles and swatches for more complex structures. This makes the document format difficult to manage on a large scale business and when interactivity with multiple users is necessary. A PDF document however can do that for you without any quality loss or any major inconveniences. novaPDF can help you convert your .Indd document into a PDF one on the fly and this way increasing interactivity, project cooperation and portability on different systems.
Converting Indd to PDF from Adobe InDesign
The conversion process is rather easy to do and takes only a few steps:
Make sure you have both Adobe InDesign as well as novaPDF installed on your computer.
Click on File then Open in the InDesign interface or hit the Ctrl+O keyboard combination and browse for the project you are intending to convert to a PDF.
After the document has been opened go to File then Print or use Ctrl+P.
In the Print window you have a wide range of settings that help you make any last moment modifications on the source file before printing it.
In the Save PDF File dialog choose a destination, if you wish to embed fonts or not and other options like sending the resulting PDF via mail or merging it with another PDF.
Once everything has been done, click the OK button and you have successfully converted your document.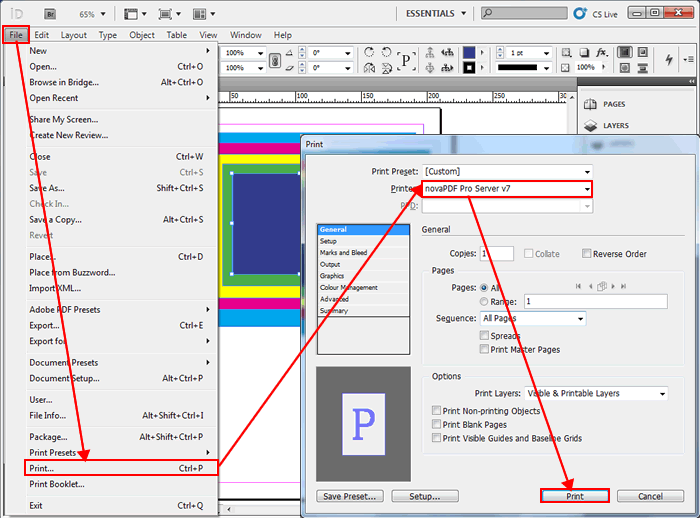 Indd and PDF are not concurrent file extensions. They are used for different purposes and belong to the same company as proprietary formats. PDF is well known for an increased portability, security settings and user interaction so it is easier to work with. On the other hand the Indd format is specifically suitable for more complex projects, advanced page design and technicality so it is mostly used by people in the CAD field.