The following tutorial shows how easy it is to convert a SVG file to a PDF document by using novaPDF along with multiple applications capable of opening the scalable vector graphic file (SVG).
The SVG file extension represents a 2D scalable vector graphic file format and was created to be used for web publishing and in XML files. SVG is an open standard accepted widely and included in most image editors (Inkscape, Illustrator, CorelDRAW, Visio etc) as well as web browsers. Althoug it is an image format, it can also contain text, shapes, paths, color, linking, scripts besides the actual images.
However, opening it does require an image viewer/editor or web browser. If you are looking for an easier way to share with someonelse a the content of the SVG file, converting it to a PDF is the solution. A PDF document can be manipulated easier and can also contain security features for sensitive information. All you need to convert SVG to PDF is a program that can open it and novaPDF to actually do the PDF conversion.
Convert SVG to PDF from Microsoft Edge
Web browsers (Chrome, Firefox, Edge) have support for opening SVG files thus the easiest way to convert SVG to PDF is from the browser. Below is a conversion example from Microsoft Edge because by default it will be the associated program for the .SVG extension.
Here are the steps you need to follow to convert SVG to PDF:
Open the SVG file in Microsoft Edge either by simply double-clicking it or going to File->Open in Edge to select and open it.

Once it's opened in Edge, press Ctrl+P to open the print dialog and select novaPDF from the list of available printers.

Click OK, set a path and file name if you want custom ones and click OK again. The file will be then converted to PDF.
Convert SVG to PDF from Inkscape
Inkscape is a free image viewer and another good alternative to convert SVG files to PDF.
This is what you need to do in Inkscape to convert the SVG to PDF:
Open Inkscape and click File->Open to load the file for conversion
Click File then Print or press Ctrl+P and in the Print window select novaPDF as the printer
Click on Print and the SVG will be saved as PDF.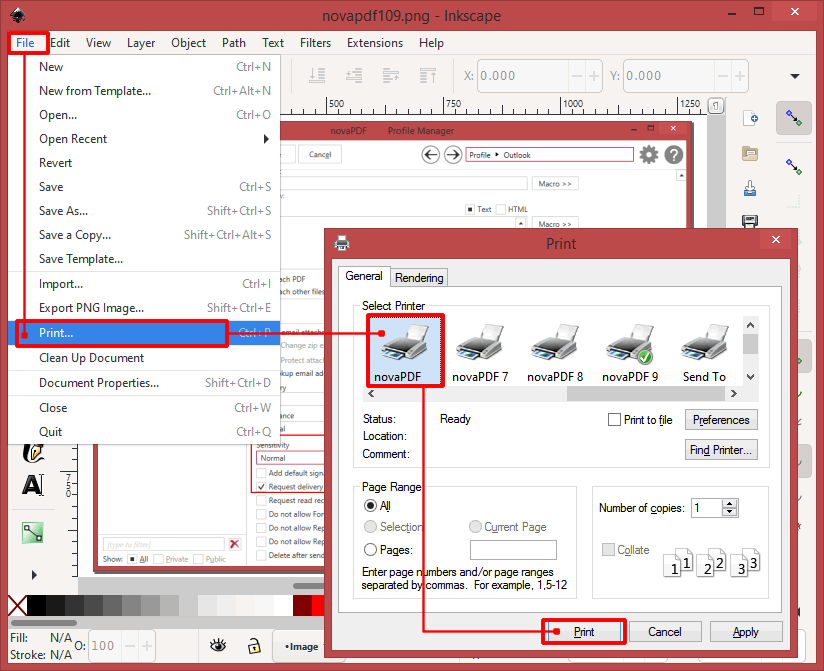 Convert SVG to PDF in Adobe Illustrator
Follow these steps to convert the SVG file to a PDF from Adobe Illustrator:
Browse for the SVG file by selecting File then Open or press Ctrl+O
Click File then Print or press Ctrl+P to open the Print window and select novaPDF from the dropdown list
Click on Print and after selecting the path and name for the file click OK. The PDF will be created afterwards.