This article applies only to novaPDF. If you don't have it yet, you must download it first.
DOWNLOAD novaPDF
We strive to keep our articles as accurate as possible. If you notice any inconsistencies or outdated info please let us know.
Convert vector graphic files (svg) to PDF
The following tutorial shows how to convert a svg file to a PDF document by using the novapdf printer driver along with multiple applications capable of opening the svg file. If you do not have novaPDF installed, used our Download page to download and install the converter.
On this page:
The SVG file extension represents a 2D scalable vector graphic file format and was created by W3C (world wide web consortium organization) for being used on web publishing and in XML files. The file format is an open standard accepted freely and widely by major companies from the graphics field and can be opened with or without addons by most of them (Adobe, Corel, Microsoft etc).
Another advantage is that most of the popular web browsers have some sort of support available for the file format and are capable of opening it or parts from it (the svg file can also contain text, shapes, paths, color, linking, scripts besides the images). So we imagine that the svg format is fairly easy to manage but the fact of the matter is only if you have a program that contains the full support for its components you can open it properly or develop it.
This is not the case with a PDF document as it can be manipulated easier and can also contain security features for sensitive web information. Using novaPDF for the file conversion also has its own advantages as watermarks, bookmarks and signatures can be added to the file and instant mail sending is possible upon conversion.
Convert svg to PDF in Adobe Illustrator
Make the following steps to convert the svg file to a pdf from Adobe:
Browse for the svg file by selecting File then Open or press Ctrl+O
Click File then Print or press Ctrl+P to open the Print window and select novaPDF from the dropdown list
Click on Print and after selecting the path and name for the file click OK. The PDF will be created afterwards.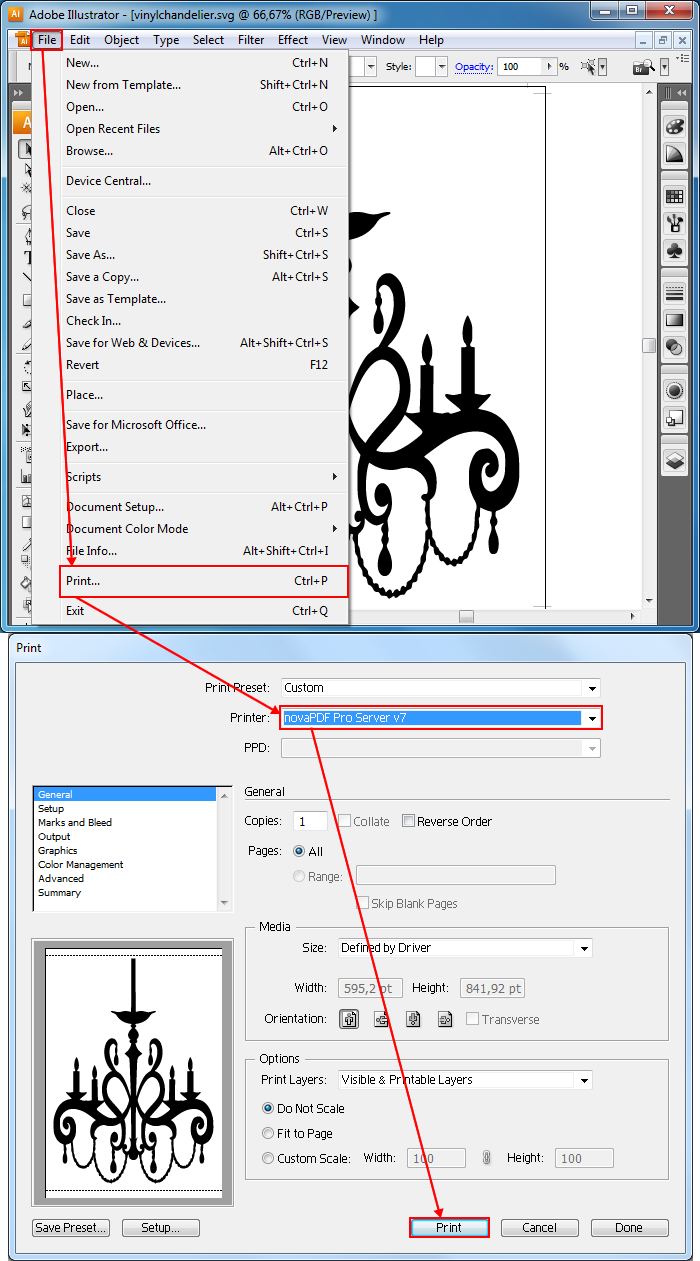 Convert svg to PDF in Corel Paintshop Photo
To convert the svg to a PDF from Corel do the following:
Open the Corel Paintshop and browse for the file by selecting File->Open or pressing Ctrl+O
Click File->Print or press Ctrl+P to open the Print window
Click on the Printer button and select novaPDF from the printer names dropdown list
Click OK then Print to create the PDF.
Convert svg to PDF in Inkscape
This is what you need to do in Inkscape to convert the svg to PDF:
Open Inkscape and click File->Open to load the file for conversion
Click File then Print or press Ctrl+P and in the Print window select novaPDF as the printer
Click on Print and the svg will be saved as PDF.
Convert svg to PDF in Microsoft Visio
The process of converting a svg to a PDF from MS Visio includes the following:
Open Visio then click File->Open to browse for the file you want to convert
Click File->Print and choose novaPDF from the printer list
Click OK, set a path and file name if you want custom ones and click OK again. The file will be then converted to PDF.