The Custom properties section is embedded in the Info tab of the Profile Manager and allows you to define custom metadata information that will be included in the generated PDF file (i.e. any name/value pair you want) as XMP metadata.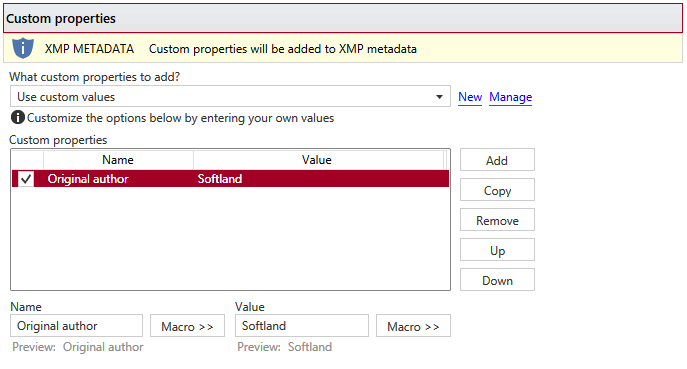 What custom properties to add?
This group allows you to choose a predefined metadata preset or use a custom one. The only preset included by default is Empty metadata, which will not add any info in the resulting PDF's metadata. You can add new or manage the existing preset by clicking on New / Manage. You can read more about predefined metadata presets in the
Manage Presets->Custom properties
help section. A predefined metadata preset can be used by multiple profiles, while Custom settings only affect the current profile.
Custom properties
Instead of using a predefined metadata preset you can define your own custom meta properties. Click on add and you'll be able to insert any Name /Value pairs to be included in the resulting PDF's metadata information. The custom properties fields are part of the extended metadata information and will be displayed only by PDF viewers that have support for XMP metadata (i.e. Adobe Acrobat). Optionally you can add Macro names for the Name/Value pairs that will be added as custom properties.