novaPDF, your powerful PDF creator
novaPDF is a PDF printer for Windows that allows you to easily create 100% industry-standard PDF files (searchable and optionally PDF/A compliant).
It's never been easier to print to PDF, you simply open your document, click on Print and select novaPDF as the printer to generate the PDF. Try it now and see how easy it is to create PDFs.
novaPDF Overview
Going paperless has never been easier!
About novaPDF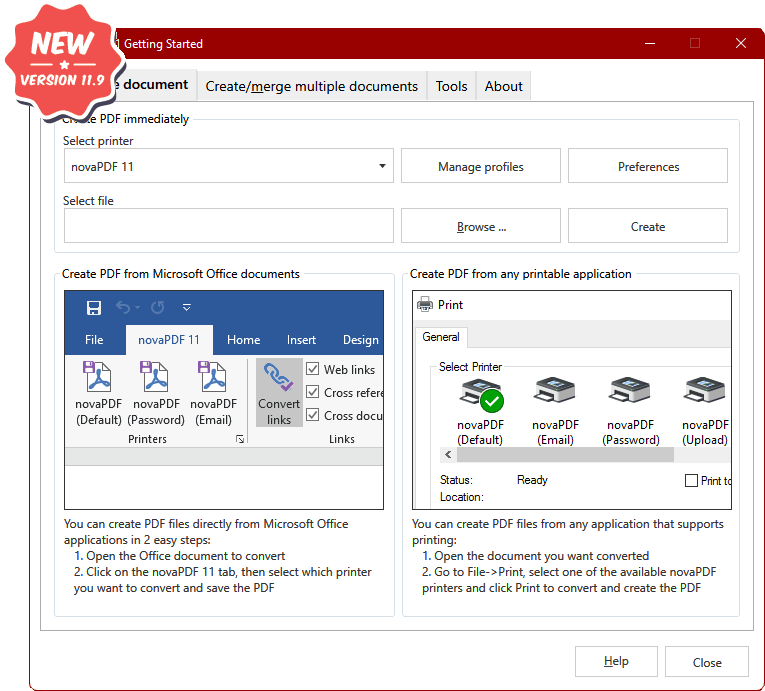 With novaPDF you can easily create PDF files from any printable document, just as you'd print to a physical printer. Its intuitive interface makes it easy to use for beginners, but also includes advanced features for power users. Download a trial version now and use it for free for up to 30 days.
novaPDF is compatible with the following operating systems: Windows 10, 8, 7, Vista, Server 2019/2016/2012/2008 (32/64-bits)
Here's just a few of benefits you get when using novaPDF:
Save Time - Speedy one-click installation and fast PDF creation
Save Money - Switching to PDF instead of regular paper significantly reduces the cost.
Stay Safe - Password-protect PDF files using military-grade 256-bit AES encryption.
Improve Collaboration - Sharing PDF documents is faster & easier than sending faxes.
Read more
Screenshots
Main features
Universal printing
Using novaPDF you convert to PDF any type of printable document (i.e. DOCX, XLSX, PPTX, PUBX, HTML, TXT,...), accessing its functionality through a printer driver interface.
If novaPDF is installed you can simply click the "Print" button from any document-related Windows app to have your PDF created. You can also use novaPDF's Getting Started interface.
Add-ins for Microsoft® Office
novaPDF comes with add-ins for Microsoft Office applications (Word, Excel, PowerPoint, Publisher, Visio) that allows one-click conversion to PDF.
A major advantage of the add-ins is the conversion of hidden hyperlinks and easy conversion of bookmarks.
PDF Security
You can secure your PDF documents (256-bit AES encryption) by requiring recipients to enter a password in order to view, print or copy/paste content from the PDF.
You are able to control whether the PDF can be viewed, printed, modified, copied or annotated. Furthermore, you can apply digital signatures certify the authenticity of the PDF document.
Testimonials
What our users say about novaPDF
novaPDF is an outstanding product... economical and lightning fast. It runs circles around ultra-expensive, S-L-O-W Adobe Acrobat! We switched to it and that's one of the best decisions we've made. Congratulations, for producing a gem of a product for the common man.
Louis B.
[...] I recommend this program to others, especially writers and illustrators who need to preserve layouts when sending work to publishers. I shall also consider upgrading, e.g. so I can convert and manage graphics more easily and accurately. Thank you for providing such an excellent program.
Nigel Benson
I use this program every day - it is my default printer - saves me a ton of paper and allows me to carry my "prints" around with me on my laptop, instead of dealing with a bunch of printouts. On those occasions where I do need an actual paper copy, then I just print the pdf file.
Fred D.
Thank you very much. As FYI, we decided to buy this because of the ratings, plus immediate ease of use. My assistant had never used PDF software before, downloaded this and was using it in less than one minute. Great stuff and great Customer Service as well.
James P.
The thing I like a lot about your product is that for large Word documents with lots of pictures, it doesn't run out of memory and produces a PDF file with all the graphics rather than black squares here and there.
Alex Potanin
Easy to install, works exactly as promised, no need to go out and pay $200 for Adobe. The customer service and quality of this company far surpassed my expectations, I highly recommend this product & company.
Vaskulus
Tutorials
Watch videos that show novaPDF in action
News and Articles
Read the latest news and articles about novaPDF
We're Softland
Learn more about the company that makes novaPDF
About us
Softland is a company founded in 1999, committed to providing quality software by using innovative development solutions. Our own competitively priced products target two different fields: PDF creation (novaPDF) and file backup (Backup4all).
About us
Contact Softland
Contact us with any questions/suggestions you might have regarding novaPDF. If you are experiencing errors with novaPDF, we recommend checking first if there isn't already an answer in the FAQ, Knowledgebase or in our Forum.
Get in touch
Partner with Softland
Partner with us and start offering your clients a powerful PDF creator. We offer 3 different partner programs: Resellers, Affiliates and Rebranding. Read more and compare them to see which fits best by visiting the Partners section.
Partner programs
novaPDF in numbers
novaPDF is continuously developed since 2005