We strive to keep our articles as accurate as possible. If you notice any inconsistencies or outdated info please let us know.
This tutorial shows how to convert forms created in InfoPath to PDF files using novaPDF. novaPDF is a PDF creator that allows generating PDF files from any Windows application that supports printing. If you don't have novaPDF installed, use the Download page to download and install it.
On this page:
Microsoft InfoPath can be used to design and fill forms. Converting a form to PDF is quite easy and can be done by printing to the novaPDF virtual printer driver instead of printing to your regular printer. InfoPath offers an option to print multiple views of a form while designing it. This way you can define several views with different font/style settings and print them to PDF to see which one would look better.
How to convert a filled InfoPath 2007 form to PDF
novaPDF is installed as a virtual printer so you can create PDF files simply by printing to it. To create PDF files from Microsoft InfoPath
2007 forms (xsn to PDF):
Open the Microsoft Office InfoPath, go to File, select Fill Out a Form and choose the template (an .xsn file) of the form you want to fill out and convert to PDF
After you've filled the form with the desired information, go to File->Print and select novaPDF in the Printer name section
Optionally you can click on the Properties button to configure additional options in novaPDF (like pdf document information, auto-save options, open PDF after creation, resolution, page format, etc.).
Click on Ok and choose a location where you want the PDF file saved. The PDF will be opened after it's created (this can be changed)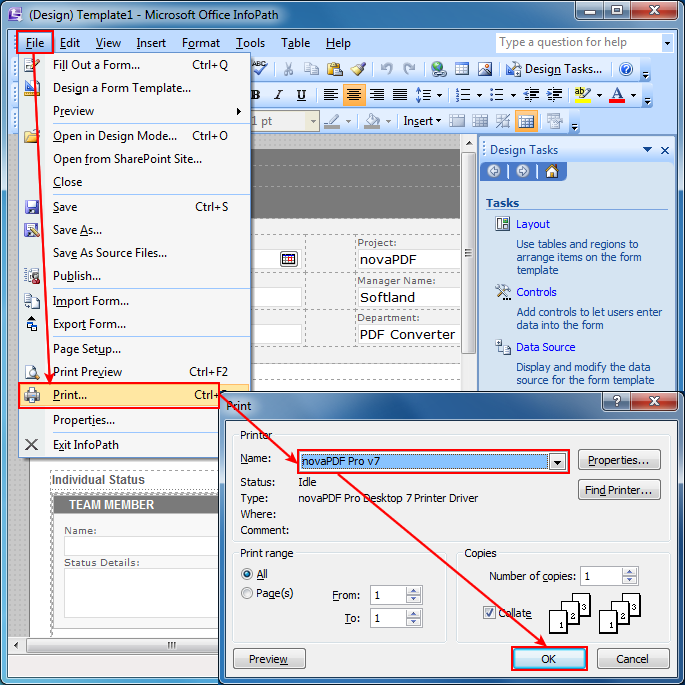 Video tutorial on how to convert Infopath 2007 forms to PDF:
Convert Infopath 2010 forms to PDF documents
To convert Infopath 2010 forms to PDF documents:
Download and install novaPDF on your computer from our Download page.
Open your form in InfoPath 2010 and go to File -> Print, select novaPDF from the printers list and click OK.
In the "Save PDF File As" window, fill in the path where you want to save the PDF file, select After save actions or Merging options if needed and click OK to start the conversion.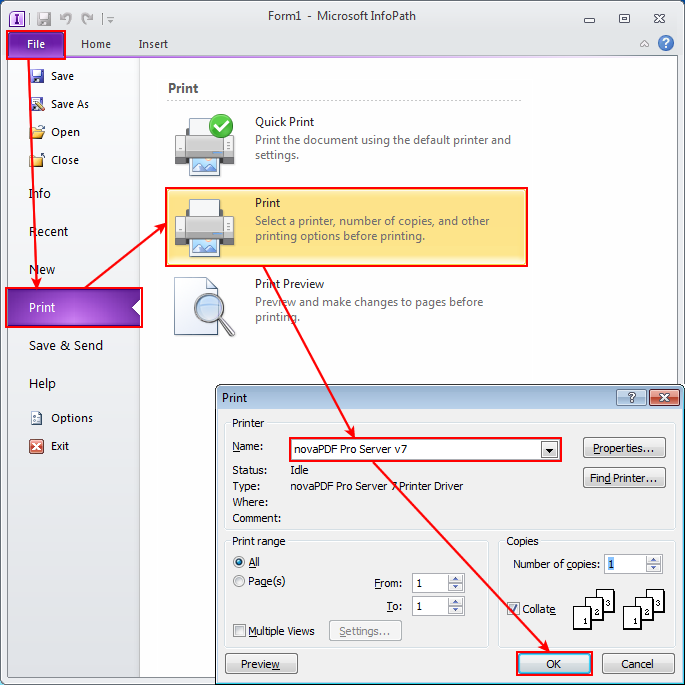 Watch a video tutorial below on how to convert InfoPath 2010 to PDF:
Printing multiple InfoPath form views to a PDF
InfoPath offers an option to define different views for a form when designing it. Views allow showing various types of forms specific to a category of users. Each view can be different based on the information the user should see or submit. These different form views can be printed by the user into a single PDF file (on different pages). If you have a form that allows multiple views printing, you can convert that to a PDF:
In InfoPath click on File and Fill Out a Form. Select the form template file (.xsn) that you want to print the multiple views to PDF for.
Go to File and click on Print
In the Print window you should see the Multiple Views option already checked (if this option is not displayed, it means that the form does not have multiple views or you are restricted from printing multiple views). Clicking on Settings will also display which views are available and you can check the ones that you want printed to PDF (as well as how to separate them in the PDF).
Click on Ok to start the printing to PDF and choose a location where to save the PDF file (auto-save can be configured too by accessing the Properties->Save tab of the novaPDF Printer)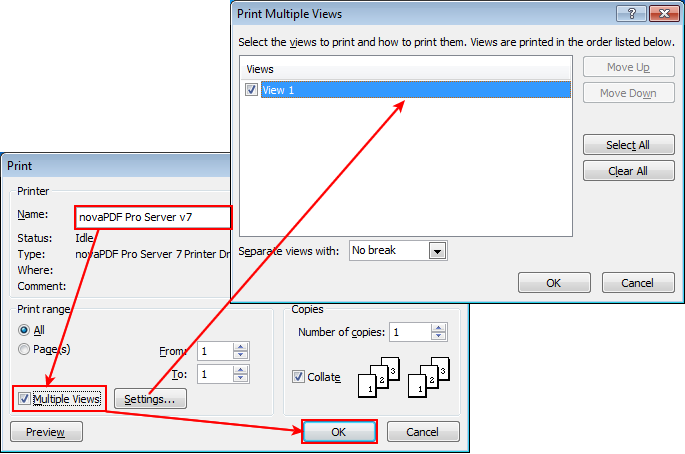 Converting a form to PDF with header and footer information
When designing an InfoPath form, you have the option to add custom header and footer information that will be shown when the form is printed by the end user. To add custom header/footer information:
In InfoPath go to File->Open and select the InfoPath form template you want to add header/footer information to
Go to File->Page Setup and select Print Settings
Click on the Header or Footer buttons to add the custom information you want printed in new forms. After you generate the form, when the recipient will print the form to PDF the header and footer information will be printed too