Use options on this page to modify the PDF document information for the current print job. Note that these options apply only for the document currently being printed, they are not saved in the current profile. To have changes saved in the profile, you need to create/modify a printing profile via the Profile Manager.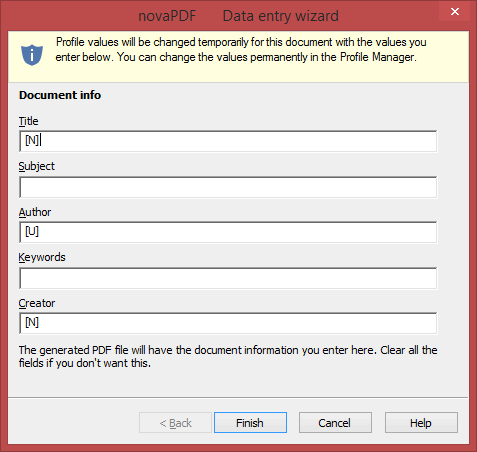 Title
Sets the document title. If you use the <N> tag, the title will be the name of the document that is printed, as it is sent by the printing application.
Available macro tags you can use for all document information fields:
[N] - The name of the document
[YMD] - Date in the format YYYYMMDD (year, month, day)
[Y] - Year in the format YYYY
[M] - Month in the format MM
[D] - Day in the format DD
[HIS] - time in the format hhmmss (hour, minute, second)
[H] - Hour in the format hh
[I] - Minute in the format mm
[S] - Second in the format ss
[C] - Counter in the format cc (it begins with 01 and increases at each printed document, if a file with the same name exists in the save folder)
[W] - Name of the workstation
[U] - The Windows User name
[O] - Domain
[L] - Application Name
[J] - The name of the printing process
[R] - Printer Name
[P] - Profile Name
Subject
Sets the subject for the printed document. Default is empty.
Author
Sets the author of the printed document. If you use the <U> tag, the author will be the windows user that started the print job.
Keywords
Sets the keywords for the printed document. Default is empty.
Creator
Information included here will be displayed in the properties of the PDF under Application. By default it will use the document name, but you can add a particular name or macro.