We strive to keep our articles as accurate as possible. If you notice any inconsistencies or outdated info please let us know.
Customize image quality vs image size in the generated PDF file.
In novaPDF Standard and Professional there is a Graphics tab that lets you select several Predefined graphic options. By default Compress is selected, which will compress the text and graphics when converting to PDF so that the size of the PDF file will be smaller. However, if you want to have a better image quality in the PDF file you can turn off text/graphics compression (size of the PDF will increase though).
To remove the Compress predefined filter:
Go to Start->Devices and Printers (Printers only in Windows 2000/Vista), right-click novaPDF Std/Pro and select Printing Preferences
Go to Graphics and from the Predefined drop-down select None and after that click OK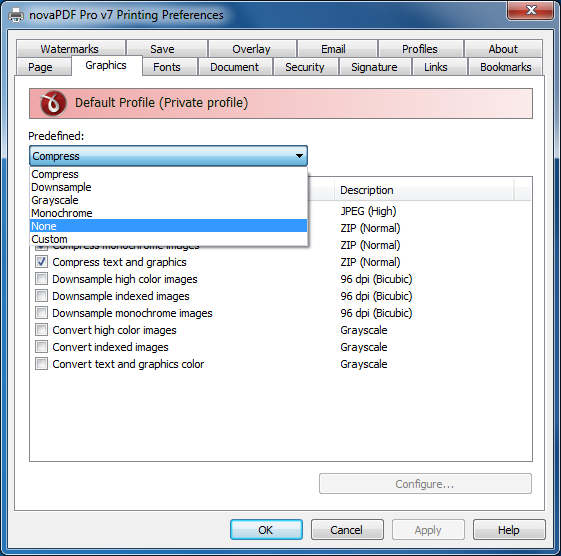 Additionally, you can also change the DPI setting for the Graphics that will be converted in the PDF. This option is available for all editions of novaPDF. To change the DPI resolution for graphics:
Go to Start->Devices and Printers (Printers only in Windows 2000/Vista), right-click novaPDF Std/Pro and select Printing Preferences
On the Page tab go to the Graphic section, choose a different DPI setting from the Resolution drop-down and click OK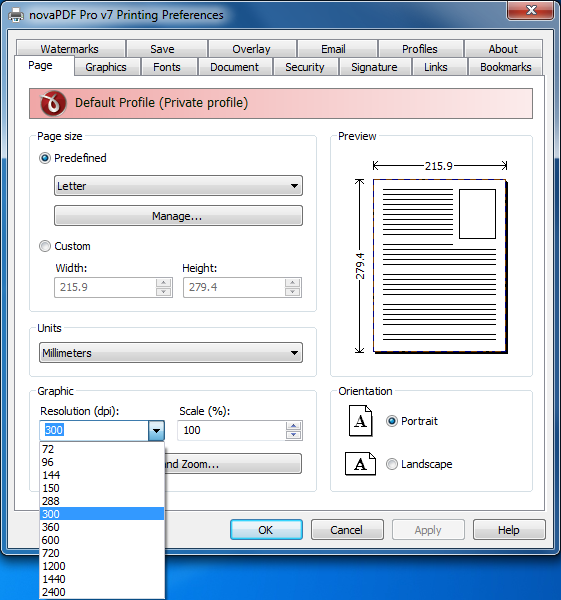 Video Tutorial on improving the image quality: